Dear Reader,
Welcome to this thirtieth edition of In The Loop (ITL).
We now have over 830 subscribers and have published in excess of 90 technical articles related to CIGRE work within the region and internationally.
In this edition, we present recently completed reports from Working Groups D2.43, C2.24 and Joint Working Group C6/C1.33.
We also have the biennial Paris Session only 55 days away. Currently we have 82 Australian delegates attending and we are informed from the Paris Office that the exhibition space is close to sold out. There are already over 2600 delegates registered, so a final attendance of over 3000 delegates is quite achievable.
However, if you are not able to get to the Paris Session (or even if you do) you can schedule our 2023 International Cairns Symposium (4th -7th September) into your diaries.
We have ten of the sixteen global Study Committees attending over the four day event, so whilst not quite as large as a Paris Session, this Symposium will present an excellent opportunity to view and experience an international CIGRE event on Australian soil.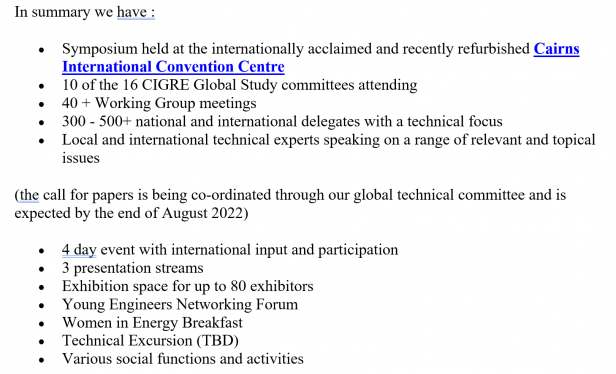 We are still developing the official website and promotional material however the sponsor prospectus has been released. (please note that the event website referred to is still under construction and not yet published. In the interim, basic information on the Symposium can be viewed HERE). A two minute promotional video can be viewed HERE.
Best Regards
Terry Killen
Chief Executive
CIGRE Australia
Technical Editor - Phil Southwell
===============================================

===============================================