Publications
Cigré is the authoritative source for power engineering resources. The e-Cigré on-line library is one of the most comprehensive accessible databases of relevant technical works on power engineering in the world.
The e-Cigré library is extensive and includes 6,800 references of publications, dated 1968 and after, out of which almost 3,000 - the latest - are available in electronic format.
Cigré Australia actively contributes to this repository and our network of professional engineers has also produced a number of publications based on our learnings from our local environment.
Applying know-how to Australia
Cigré constantly produces a wide range of technical brochures and publications. A sample of these produced over 2012 - 2013, which are of particular relevance to the Australian environment, are listed below. To download these publications, go to e-Cigré or contact us to find out more.
TB548 - Stakeholder Engagement Strategies in Sustainable Development - Electricity Industry Overview
TB541 - Asset Management Decision Making Using Different Risk Assessment Methodologies
TB539 - Lifetime Management of Relay Settings
TB537 - Guide for Transformer Fire Safety Practices
TB534 - Interaction Between Principles of Transfer Capacity Calculation and Market Activity for Enhanced System Utilisation
TB532 - Substation Uprating and Upgrading
TB527 - Performance Coping with Limits for Very High Penetrations of Renewable Energy
TB524 - Control Centre Operator Requirements, Selection, Training and Certification
TB523 - System Complexity and Dynamic Performance
TB515 - Mechanical Security of Overhead Lines Containing Cascading Failures and Mitigating Their Effects
TB509 - Final Report of the 2004-2007 International Enquiry on Reliability of High Voltage Equipment - Part 1: Summary and General Matters
TB505 - Funding - Generation and Transmission Investment
TB500 - Impact of Market Designs on Generation Adequacy
TB497 - Application and Feasibility of Fault Current Limiters in Power Systems
TB495 - Communications Access to Electrical Energy Consumers and Producers
TB487 - Strategic Environmental Assessment for Power Developments
TB486 - Integral Decision Process for Substation Equipment Replacement
TB485 - Overhead Line Design Guidelines for Mitigation of Severe Wind Storm Damage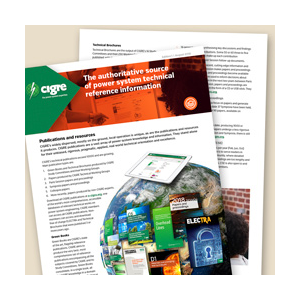 For more about CIGRE publications and resources
Download